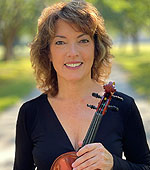 Allegra Havens
Allegra is a graduate of Boston University (BFA) and Philadelphia College of the Performing Arts (MM). She enjoys performing many different genres of music. She has been a member of the Virginia Symphony Orchestra and Virginia Opera for over 25 years and founding member of the Harbor String Quartet, a professionally active chamber ensemble. She performs regularly with Virginia Musical Theater well as Broadway on Tour productions. She currently serves as the electric violinist with Windborne's Music of Led Zeppelin throughout the USA and Canada. Allegra is a faculty member at Virginia Wesleyan University, Christopher Newport University and The Governor's School for the Arts. When Allegra is not performing or teaching, she enjoys volunteering with the Golden Retriever Rescue and watching the Boston Red Sox win division pennants.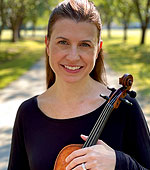 Gretchen Loyola
Gretchen Loyola grew up in Indianapolis, Indiana and began playing the violin at age four at the Indiana University Suzuki violin program. She later went on to study with Herbert Greenberg, the former concertmaster of the Baltimore Symphony, at the Peabody Conservatory of Johns Hopkins University in Baltimore, Maryland. She earned a BS in Music and a Graduate Performance Diploma. In 2001, Gretchen joined the Virginia Symphony Orchestra.

Several years later, she left the symphony to pursue a career in medicine. In 2008, Gretchen graduated as the valedictorian of her class with a Masters of Science in the Physician Assistant Program from Eastern Virginia Medical School in Norfolk, Virginia.

Gretchen continues to play the violin and being a member of the Harbor String Quartet is a special treat. It allows her to be involved with music, which is a great joy to her and enables her to share that joy with others. In her free time Gretchen enjoys exercising, baking and spending time with her family and friends. Gretchen is married to Benito Loyola, a Captain in the Navy and CEO of the engineering firm Loyola Enterprises, Inc. They are the proud parents of two beautiful daughters.
Anastasia Migliozzi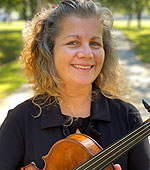 Anastasia, or Stacey, as her friends call her is originally from New York. She received her Bachelor's degree from The Juilliard School and her Master's degree from Rice University, Shepherd School of Music. Stacey has played viola with the Virginia Symphony and many other area arts organizations since 1990. She also teaches violin and viola at the Governor's School for the Arts, Old Dominion University, Norfolk State University and maintains a private lesson studio. Prior to coming to VA, Stacey played with the Houston Ballet Orchestra and Sinfonica D'ell Emigliz Romagne; Parma, Italy. Stacey lives in Norfolk with her Husband and crazy Whippet. In her spare time she is an avid knitter. Stacey loves making music with the Harbor Quartet!
Peter Greydanus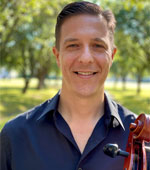 An active orchestral and chamber musician, Peter Greydanus is a member of the cello section of the Richmond Symphony Orchestra, a member of the Williamsburg Symphony Orchestra and performs frequently with the Virginia Symphony Orchestra. Formerly an associate musician with the Columbus Symphony Orchestra, he has also been a member of the Wheeling, WV, Youngstown, OH, Haddonfield, NJ, Albany, NY and Canton, OH symphonies. In addition he has performed with the Sarasota Opera Orchestra and been a participant in the Spoleto festivals in Spoleto, Italy and Charleston, SC as well as the Europaisches Musikfest Stuttgart and the Crested Butte Music Festival. He has served as an adjunct professor of cello at Christopher Newport University and as a member of the string trio Clivia Trio, he is an artist with Young Audiences of Virginia/A4L. Mr. Greydanus is a graduate of Temple University where he was a student of Orlando Cole and studied as well with Metta Watts and William Stokking. During the 2009-2010 season Peter and his wife, Jocelyn Smith lived in Crested Butte, CO and organized a strings class at the Crested Butte Community School. Jocelyn and Peter live in Norfolk, VA with their two daughters, Mirabelle and Eda.