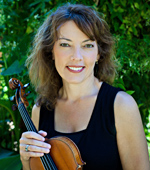 Allegra Havens
Allegra is a graduate of Boston University (BFA) and Philadelphia College of the Performing Arts (MM). She enjoys performing many different genres of music. She has been a member of the Virginia Symphony Orchestra and Virginia Opera for over 25 years and founding member of the Harbor String Quartet, a professionally active chamber ensemble. She performs regularly with Virginia Musical Theater well as Broadway on Tour productions. She currently serves as the electric violinist with Windborne's Music of Led Zeppelin throughout the USA and Canada. Allegra is a faculty member at the Governor's School for the Arts in Norfolk, VA. When she's not performing or teaching, Allegra devotes her time to volunteering with Therapy Dogs International, an outreach organization for people of all ages, all disabilities. She lives in Virginia Beach with her husband and her Golden Retriever, Rosie Mae.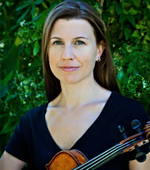 Gretchen Loyola
Gretchen Loyola grew up in Indianapolis, Indiana and began playing the violin at age four at the Indiana University Suzuki violin program. She later went on to study with Herbert Greenberg, the former concertmaster of the Baltimore Symphony, at the Peabody Conservatory of Johns Hopkins University in Baltimore, Maryland. She earned a BS in Music and a Graduate Performance Diploma. In 2001, Gretchen joined the Virginia Symphony Orchestra.

Several years later, she left the symphony to pursue a career in medicine. In 2008, Gretchen graduated as the valedictorian of her class with a Masters of Science in the Physician Assistant Program from Eastern Virginia Medical School in Norfolk, Virginia. She practices in the field of physiatry.

Gretchen continues to play the violin and being a member of the Harbor String Quartet is a special treat. It allows her to be involved with music, which is a great joy to her and enables her to share that joy with others. In her free time Gretchen enjoys exercising, baking and spending time with her family and friends. Gretchen is married to Benito Loyola, a Captain in the Navy and CEO of the engineering firm Loyola Enterprises, Inc. They are the proud parents of two beautiful daughters.
Anastasia Migliozzi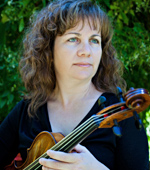 Anastasia, or Stacey, as her friends call her is originally from New York. She received her Bachelor's degree from The Juilliard School and her Master's degree from Rice University, Shepherd School of Music. Stacey has played viola with the Virginia Symphony and many other area arts organizations since 1990. She also teaches violin and viola at the Governor's School for the Arts, Old Dominion University, Norfolk State University and maintains a private lesson studio. Prior to coming to VA, Stacey played with the Houston Ballet Orchestra and Sinfonica D'ell Emigliz Romagne; Parma, Italy. Stacey lives in Norfolk with her daughter and her neurotic whippet. In her spare time she is an avid knitter. Stacey loves being a member of the Harbor Quartet and is the group's music librarian.
Jeffrey Phelps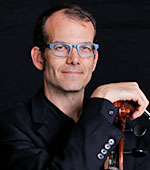 Jeffrey Phelps is a graduate of the Cleveland Institute of Music, where he earned degrees in both cello performance and orchestral conducting. Mr. Phelps has performed with the Norfolk Chamber Consort, the Virginia Symphony, Virginia Musical Theater, and chamber music recitals throughout the region. Mr. Phelps is a SURDNA Arts Teacher Fellow and a three-time recipient of Stiftung Thyll-Dürr grants. Mr. Phelps has an aversion to wicker furniture and overhead lighting. He likes reading artist's biographies in printed programs.